KWD-AE21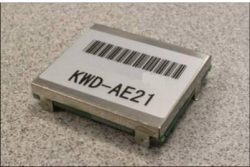 KWD-AE21
Модуль шифрования NEXEDGE AES/DES
Основные характеристики
AES & DES Plug-In Cryptographic Module
For use with NX-200/300 Portables and NX-700/800 Mobiles
256 bit
Key Strength = 2 to the power 256
16 Multi-Key list (User selectable/per personality programming)
Stores 1024 Keys and 1024 Common Key References (CKR)
For use with KPG-151AE Keyloader Software
KWD-AE21 and KPG-151AE containing encryption are export controlled products and may either require an Export License, are eligible for a License Exception or are exportable with No License Required depending on the country, the consignee and the intended use. High level encryption is a special commodity that may require an export license to most countries. DO NOT SHIP encryption items outside the country of the customer without proper Export Licenses and/or compliances.
Kenwood may request certain information to be submitted at time of order (this information must meet Kenwood internal approvals prior to shipment even if being returned later). For full details of the information required contact your appointed dealer.
Другие товары из этой категории